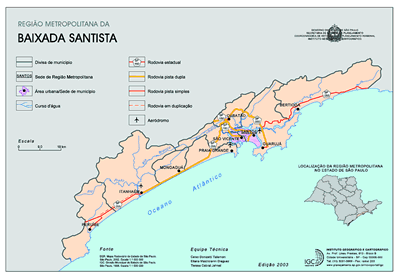 The Study Abroad in Brazil Program can be developed in many places in the Country however the team has chosen Santos City as the location to develop the main activities for many reasons.

Inserted in the so called Atlantic Forest Coast with its 9 cities, Santos is a perfect place for the development of study abroad activities because of its peculiarities, such as:

It is located at the seashore of São Paulo State, southeast of Brazil, in the last piece of Atlantic Forest a preserved natural area;

Santos has the largest seaport of South America;

It is close to Cubatão and ABC regions where the largest Industrial Park of South America is;

It is just 60 Km far from São Paulo City the economic capital of Brazil, one of the most cosmopolitan cities of the Country.

It is a beautiful and enjoyable Island full of historical sights, in which the society lives in a frenetic business environment and where are 12 universities are;


Not to mention the weather that propitiates an intense cultural life out doors.

Santos is an excellent base from which to travel in Brazil. It is close to two airports Congonhas Airport in São Paulo city and Cumbica Airport in Guarulhos, both with hundreds of daily departures to several destinations in Brazil and South America.

Besides it is a small Island, very easy to walk around and safe.