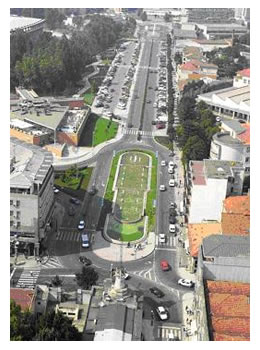 The program starts and ends in Guimarães, the City considered the birth place of Portugal.

Guimarães is a Portuguese city located in the district of Braga, northern region, is home to a municipality with 242.85 km ². It is a historic city with a crucial role in the formation of Portugal, which already has more than a millennium since its formation.

Guimarães is one of the most important historical cities of the country. Its historical center is a Cultural Heritage of Humanity. It is preparing itself to be the European Capital of Culture 2012, along with Maribor City, Slovenia.

The city of Guimarães has several areas of cultural reference in the region and nationally. Among the several museums of the city, stands the Palace of the Dukes of Bragança; Alberto Sampaio Museum, founded in 1928 and opened to the public since 1931; Vila Flor Palace that until the early twentieth century was the first place of University of Minho, where it currently stands the Centro Cultural Vila Flor.